I had a nice weekend with lots of yarn! First my sister in law told me that Dee's Crafts was having a sidewalk sale and that I should go check out the yarn. I went and checked it out and managed to score a few skeins of Lorna's Laces for 50% off!
Two skeins of Lorna's Shepherd Sport in Layette, and one skein of Fisherman's Wool in Sweetie. The Fisherman's Wool skein is 500 yards!
The same sister in law has also recently started to get into beading, and I have to say she is awesome at it! She is really good with colors and mixing sizes and shapes. Both my mom and I think she could sell her work. She would at least make enough to feed her bead habit.
The family took a trip down to Berea which is the home of the
Kentucky Artisan Center
as well as the Old Town Artisan Village which has a collection of shops and workshops that you can visit. Cool stuff. I of course had to pick up some local yarn.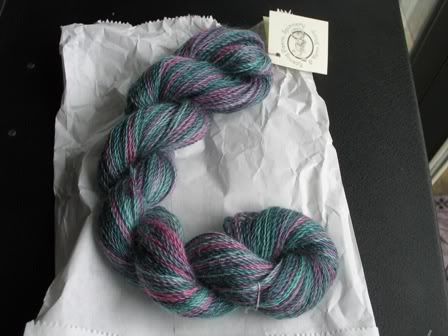 212 yards of lace weight mohair in the color watermelon. This yarn is from
Koenig Farm Spinnery & Yarn Shop
located in Springfield Kentucky. Its a really cool establishment. They raise the goats, spin the yarn and dye it.
As far as knitting goes I've been working on my moms sock, and working on a scarf for the red scarf project.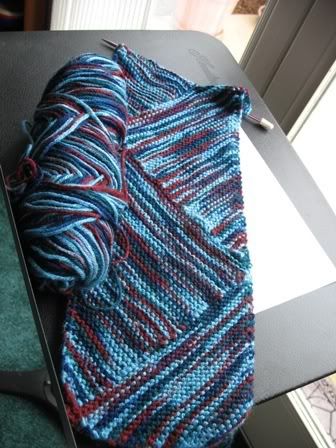 I really like the yarn I selected for the red scarf project. It is Bernat Super Value and the color is Wine Twist. When I bought it I thought the colors were unisex... or at least I really wanted to believe they were. I've been informed that there are too many colors for the scarf to be unisex. To top it off I'm not sure I can get it done on time.
What should I do? Should I try and finish and send it in anyway? Or is there another program I could send this scarf too? I really like the colors so if all else fails I could keep it myself or give it as a gift.