To really cover all the things this question should cover I had to empty out my school bag, my purse, and my pockets. After all of that my keys and my phone still didn't make it into the pictures.
School/Knitting Bag
Its called an Everything Bag and according to the receipt it came from QVC. I got it from a second hand store. It has a bazillion pockets which I love! Makes it so easy to store stuff in.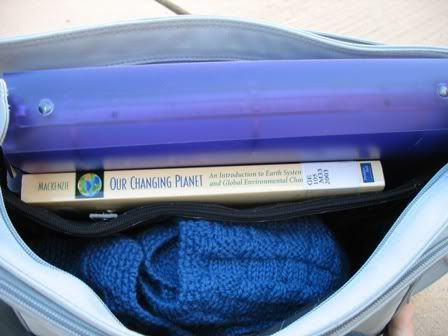 First off is "Our Changing Planet" which is my geology text book. I picked this book up from the library, which means I don't have to buy it!
Sitting on top of the text book is
- A scarf I'm knitting.
- A pouch with items like stitch markers, stitch holders, and point protectors
- Needle size checker thing
- Label from the yarn I'm using in the scarf
- Kid scissors
- A loose blunt needle for weaving in ends. It should probably go in the pouch.
Next is my binder. It has all my notes and papers for my classes. Sitting on top of the binder are 2 mechanical pencils, a package of mini G2 pens, and a highlighter. G2 pens are my favorite pens ever, so you can imagine my excitement when they started making mini ones!
On the ground bellow the text book is a burts bees lip balm. I hate chapped lips.
My Pockets
These items move between my pockets, purse, and school bag depending on the day.
- Change
- License
- Debit card
- School ID
- Little black heart on a jump ring - I found it on the ground yesterday.
Purse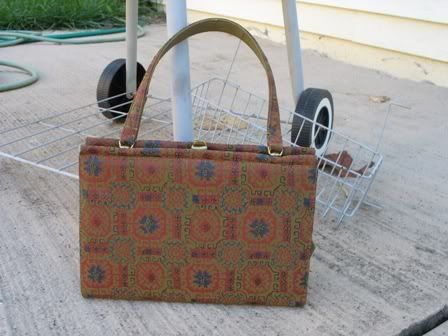 My purse exists mainly to hold my keys, cell phone or anything else too bulky to fit comfortably in my pockets. It is boring inside.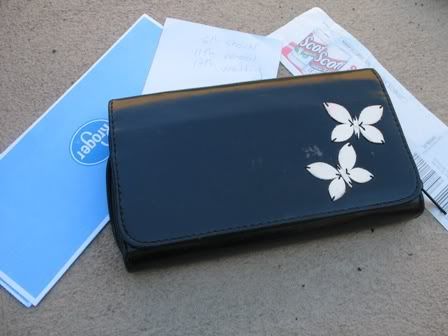 - Pay stubs
- Wallet which holds my triple A and health insurance card.
- A coupon for paper towels.
- A slip of paper with various dates I need to remember.
Wow that was kinda long. Hope you had fun snooping!