For Valentines Day I jumped head first into a color work pattern. I didn't even bother to swatch. I figured if they turned out a little bigger or smaller than they were suppose to it was no big deal.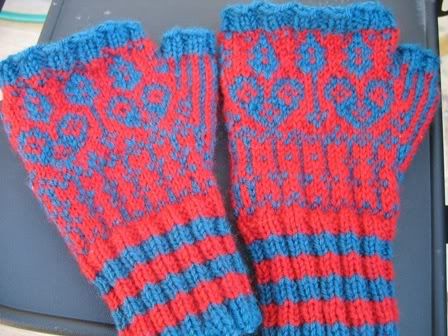 Pattern:
Companion Mitts- Coordinate with Fair Isle Tam
Yarn: Lion Brand Wool in Red and Blue (greenish blue)
Needles: US size 4
Mods/tricks: I shortened the thumb. Used a slip stitch to minimize the jog on stripes, and knit the first row of a ribbed color change all stockinette so that I wouldn't have purl bumps of the wrong color sticking out. During long floats I used this method of
weaving in as you knit
, to carry my float along with me. This was great for long floats, but I didn't find it to be secure enough to actually weave in ends. The lack of security may have been a short coming of my own instead of the technique's, so I will try it again someday.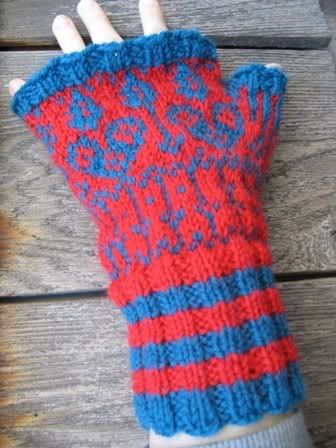 This was honestly not the best choice for a first color work pattern because some of the floats are quite long. Also between my lack of a swatching, and my small hands these mitts are huge on me. I could easily wear a pair of thick gloves under them.
I'm very proud of them regardless of their flaws.
These also count as my first PS3 fire FO!