I finished my first hat!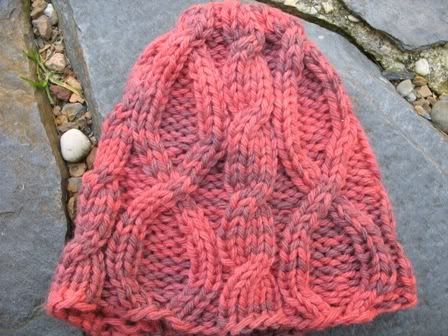 I think the cabled pattern is really cute. I also enjoy the colors of the yarn I used, despite the pooling. My problem with this hat is the size.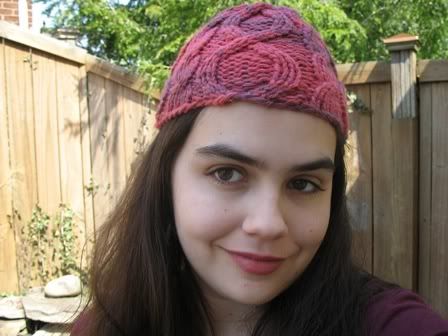 It is a little tight. Nothing a good washing and blocking couldn't fix. The big problem is that it is way too short. I'm debating between adding another repeat and adding ribbing to the bottom. My plan is to let the hat rest for a bit until I can decide. Until then, it is finished!
Pattern:
An Unoriginal Hat
by Stephanie Pearl-McPhee
Yarn: Knit Picks Wool of the Andes Bulky. Color: Storm dyed over with cherry kool-aid.
Needles: 10.5 dpns
Mods: None
New Techniques:
Helix stripes as described by Grumperina
. I used this method to work from both ends of the yarn ball. You can still see the pooling easily, but it is a little more gentle. Had I felt like messing with it I think working with 3 or 4strands would have fully fixed the pooling problems.
FO count: 4