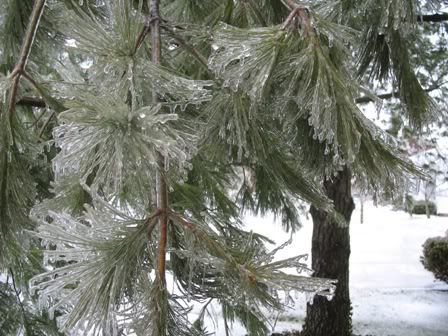 We have snow coming down now and it reminded me of the last bit of nasty weather we had. It was a little ice storm and I was shocked when I stepped out my door and almost walked face first into these branches. The weatherman is suggesting anywhere from 4 to 10 inches of snow. I am really hoping they are wrong, because I have a plane to catch tomorrow morning! Cross your fingers for me, will you?
As far as knitting goes I've realized that I have an absurd number of projects on the needles. My mind flashed to the Christmas knitting wars and the competition to finish the most projects. From there I remembered that I have been bouncing around the idea of having a contest.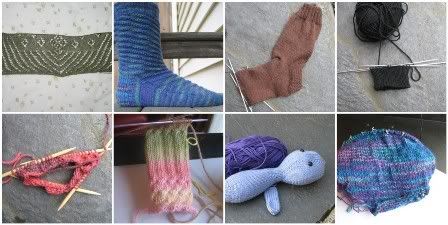 1.
SOTSii hint 1
, 2.
rpm sock
, 3.
dad's sock
, 4.
Boy Gloves
, 5.
unoriginal hat
, 6.
fetching
, 7.
sheldon
, 8.
clapotis
I have 8 projects on the needles. Your job is to guess how many projects I will finish in a month. The month will start today, and end on April 7th. I will do my best to concentrate on projects already in progress. I reserve the right to cast on new projects, and if I finish them they will count in the FO total.
Guesses are due by March 13th. The person with the closest guess wins. If multiple people are equally close then the winner will be randomly selected. The winner will be announced on April 8th.
The prize will be a surprise. :) The prize might be big or small, but I will do my best to make it something fun and enjoyable for the winner. The prize will be sent out sometime in April.