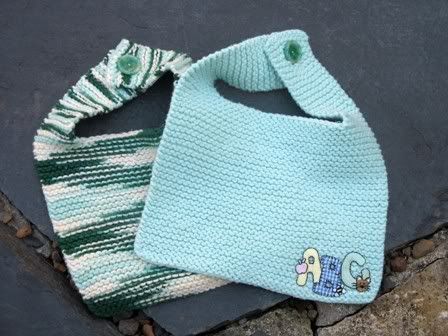 Daniel has a manager that is very pregnant and on Tuesday night he asked if I could knit something small for her. We talked about it a little bit and agreed that he would find out the gender the next time he worked and then we would pick out a pattern together.
On Wednesday I was heading to class and the only item I had to work on was the misbehaving glove. I grabbed a ball of Peaches and Creme and my Mason Dixon Knitting book and headed out the door.
Over the course of the day I finished the first bib.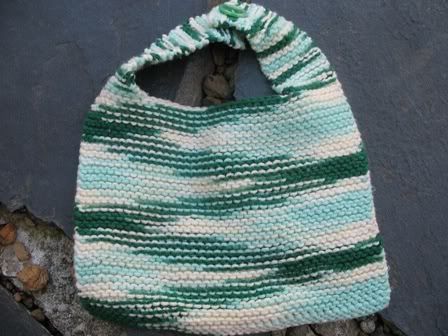 I had so much fun making the first one that on Thursday I started the second one, and it was a good thing too. Thursday Daniel learned that the baby was a boy and that the manager's last day was Friday! We ran off to Jo-Ann's and picked out buttons and a patch. I finished all the knitting that night, and did the finishing work on Friday afternoon.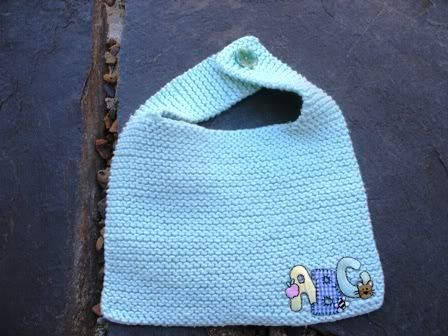 Pattern:
Bibs O'Love, from Mason Dixon Knitting
Yarn:
Peaches and Creme 100% cotton, 1 ball each "Baby Green" and "Shades of Green"
Needles:
knit pick options size 6
Mods:
None
New Skills:
This was my first button hole. I also learned how to properly sew on a button.

I really enjoyed making these bibs. I especially love the way the bib with the patch turned out. I sewed it down, and then ironed it on for extra security.
That brings me to three FO's! Dad's socks, and two bibs.