While on the trip I finished my brother's socks. I don't have an FO picture for the pair, but I can assure you the second sock looked the same as the first. ;)
I also started and finished a pair of fetching while I was there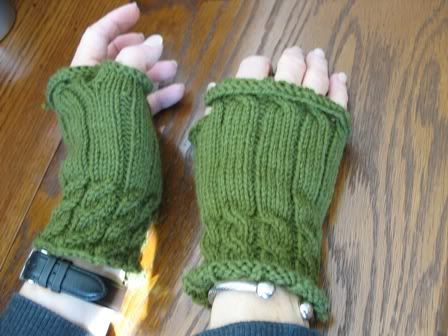 Pattern:
Fetching
from Knitty
Needles:
US 6
Yarn:
Cascasde 220 Superwash, color 888
Made for:
My mommy
Mods:
I used a purled bind off insted of the picot bind off. I also picked up extra stitches for the thumb and decreased them away. To be honest I picked up the extra stitches because I wasn't 100% sure which to pick up. I decided to not bother finding out because I've noticed fetching thumbs sometimes have holes. I thought the extra stitches might pervent this. They didn't.
The yarn for these was actually left over from my brothers socks. I think I still have enough for another small project.