You know how on Thursday I said I expected to finish my Juliet Scarf sometime next week. When I said that I actually meant I would finish it that night.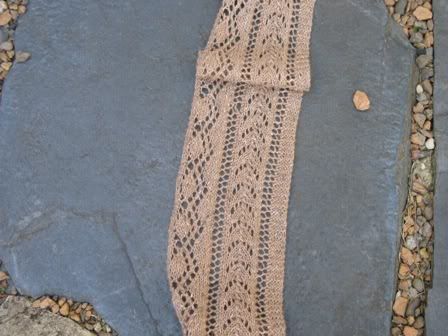 It wasn't fully my choice to finish it. I ran out of yarn. The scarf was only about 25 inches long instead of the suggested 37 inches long. But don't worry, this story has a happy ending.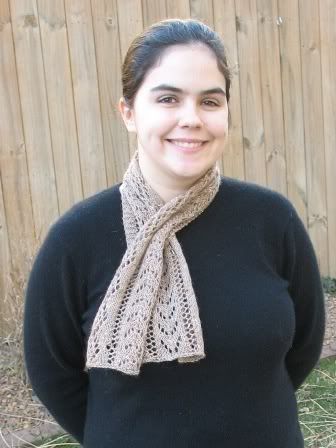 Pattern: Juliet Scarf from Knitting Little Luxuries.
Yarn: Partial skein of Rowan Felted Tweed (unknown amount)
Needles: US 8
Finished size: 37 x 7 inches
Mods: I left the book at my mom's so I'm not 100% sure but I think the pattern intended you to end on the last row of the chart. I didn't like the look of it because that row ends with a big hole. It looks great in the pattern, but not so great standing alone. I ended on row 6 instead. This also happened to be the perfect place for the amount of yarn I had. In the end I had just enough to weave in.
I'm so glad it blocked out to 37 inches. I still think it is a little short. If you knit this, and would like to be able to tie it, I suggest making it longer. I intend to make or find some cute pin to use to use with this.