I've not had nearly as much knitting time as I thought I would, but I still got a decent amount done on my Juliet scarf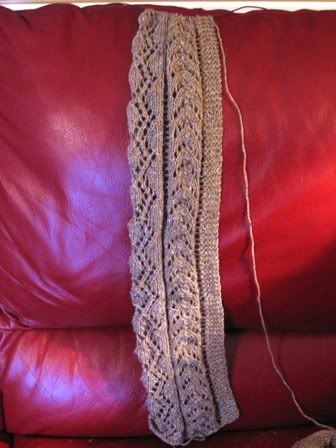 She is now 21.5 inches long and the suggested length is 37 inches. With any luck I'll be done sometime next week!
I've not started my dad's sock yet. My second set of US1 dpns seem to be MIA. I feel a strong urge to cast on about 20 different projects. I must resist.
I signed up for the second secret of the stole. The clues start tomorrow. Unfortunately my yarn has not arrived. :( It has finally been shipped though! YAY! Maybe I'll be able to buckle down and catch up once it gets here? Wishful thinking? Probably.
I'm enjoying my anatomy class. Is that weird? I bet I'll be cursing it come test time. ;)