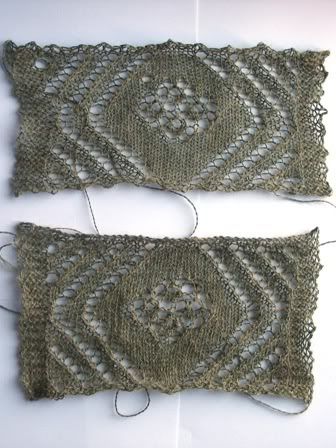 Yarn: Knit Picks Alpaca Cloud in Moss
Top Swatch
Cast on: US3 and US2 held together (US3 alone was tight)
Cast off: US7 I made an effort to cast off very loosely.
Knit: US3
Size: 8.25in wide, 4in tall
Bottom Swatch
Cast on: US4 - turned out nice and stretchy
Cast off: US7 - I cast off normally and it turned out too tight.
Knit: US4
Size: 7.5in wide, 4.5in tall
Results:
They look almost identical. Top swatch turned out a little wider and Bottom Swatch turned out a little taller. I think a lot of this is due to blocking. The bottom swatch's bind off was too tight which limited how much I could stretch out the lace. I also just did a better job blocking Top Swatch, because it was the second swatch I knit.
For this project I intend to go with the size 3 needles. My yarn is finally in Lexington, so I'm hoping I get it today. Fingers Crossed!
I also finally got around to making the heel for my sock