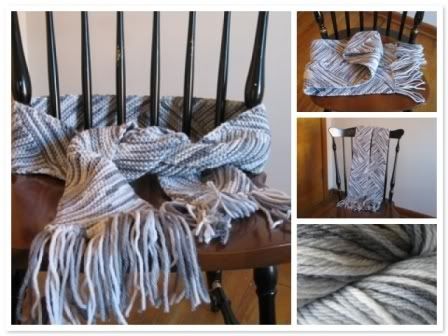 Pattern: Multi Directional Diagonal Scarf
Yarn: Wool of the Andes Buly Hand Dye, Storm
Needle Size 9
Length: 64 inches, not including fringe
Width: 5 inches

This is my first finished project of 2007 and I am so pleased with it! The knitted portion took two whole skeins of yarn and I had to use a portion of a third to make the fringe. When I finished the scarf it wasn't hanging all that nicely so I made my first attempt at blocking. I dampened it with a spray bottle, smoothed it out over a towel, and threw a hot towel down on top. I used the hot towel because I remember reading somewhere that it helps drying time some. The blocking worked and it now hangs beautifully.
When I was in the basement of my apartment building heating the towels up in one of the dryers I noticed something in the corner. A cute little vine has grown into the basement bringing with it a splash of color and cheer.
I'm not sure what it is today but there are tons of birds hanging around. My cats go nuts about one bird, so you can imagine what happens when there are a lot of birds. Bird watching for my cats involves clinging to windows, lashing the tail, and making this odd chirping noise. It is cute for the first few minutes.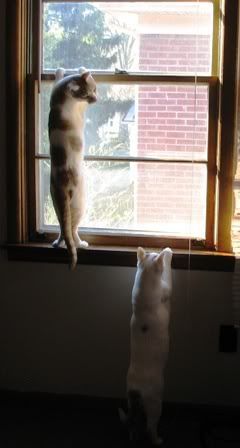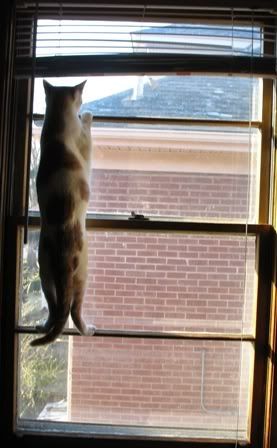 The bird watching did give me a chance to capture Luigi's special window scaling skill. I'm not sure how he manages to stand on those little bitty window bars, but he does.
I have started my first sock! I am only about 1.5 inches into the cuff but for a first sock I think its going pretty well. I didn't work on it at all yesterday, but I might get more done today.