Life has been a bit busy with the start of school and I haven't been home much in the daylight hours. I almost forgot that it was yarn pr0n time and when I remembered tonight I started freaking out about what I would post because it was much too late to take any pictures. Lucky for me I have some pictures of a special yarn I have been saving, I wanted to save it for a bit longer but I guess this week is just as good as any other.
Meet one of my Christmas presents from my Mom - yes she's a fiber snob.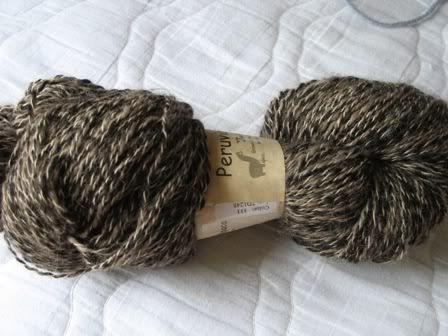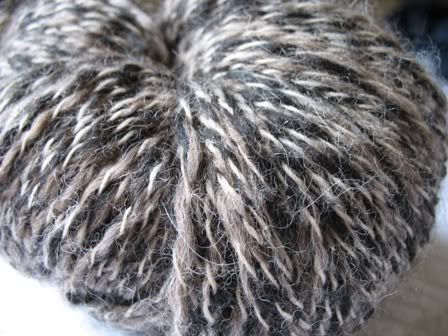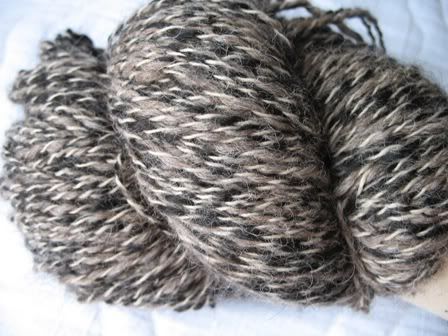 Joseph Galler's Peruvian Tweed
"The Heavenly Fiber"
100% alpaca
Color: 111

This stuff feels so soft and wonderful. There are no dyes, all colors are naturally occurring in the lovely fiber providing alpaca's. I looked up
alpaca
on wikipedia because I'm a dork like that and it says that alpaca's have more than 22 natural colors!
Now I do have a dilemma with this yarn... WHAT DO I MAKE WITH IT????
It is a light worsted or DK weight yarn and there is 600 yards. This stuff is soft, snuggly and warm and I want to take advantage of that. I was thinking of making a cozy, but that needs 800 yards and I'm not sure if 600 yards would produce a suitable size. I don't want to pick the wrong project for this yarn, its too lovely to do that to, so please send me your ideas if you have some!