Well I'm going to be busy until the evening tomorrow so I figured I'd go ahead and get the pr0n up now. I'm sorry about last weeks pr0n being blurry, that is what I get for trying to use an unfamiliar camera while half asleep. So because last weeks silky wool didn't turn out I decided to try it again this week, while awake, with my own camera. ;)
Alright so even with improved conditions this silky wool was kinda tricky, I don't think it likes being a pr0n star. Either the picture was in focus and the color was way out of whack, or the color was dead on but the picture was blurry. Grrr. After like 15 million pictures I finally got something that was in focus and somewhat color accurate so I took it and ran.
First the full body shot: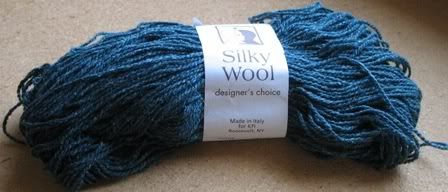 The close up: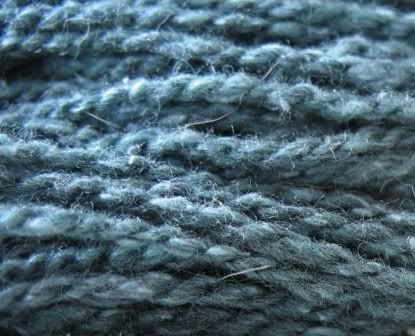 Elizabeth Lavold Silky Wool
Content: 65% wool 35% silk
Color: Teal (20)
I have an amusing tidbit to share with you from my mom who recently took up knitting again. She decided to make a pair of socks as her first project and she has been updating me periodically through IM about her trials in getting the socks started. One of the most recent messages was this:
"I did get to start k2 p2 but they all ended up on one needle"
I have to admit this made me laugh. I know she can do it, she just needs a little help getting started. I'm going to help her when she comes to visit tomorrow. I've got to start my second sock so we can start and work a few rounds together.
Everyone have a safe and enjoyable fiber friday!