I had a fun and hectic holiday/birthday. I am now in possession of three new pretty yarns that were given to me as presents. I also have a gift card to a craft store for an unknown amount so we'll see where that leads!
I finished the last of the three Irish Hiking Scarves so all three are now with their new owners. I managed to get a shot of the three scarves together before they went their separate ways.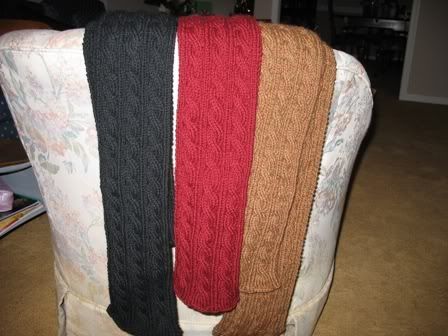 I also got a picture of D's quilt before I gave it to him.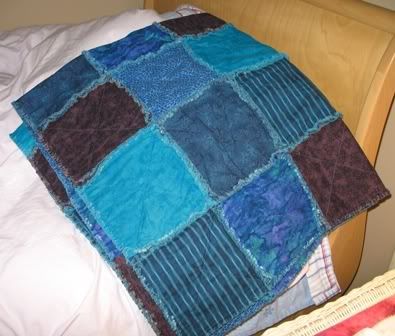 He liked it. It is warm and snuggly and I may just steal it back from him.
After finishing the last Irish Hiking Scarf I suddenly found myself with nothing to knit. I had left the yarn for Mom's birthday scarf at home so I decided to practice the multi directional scarf pattern with some scrap yarn. I'm glad I did because I ran into a few problems. I fixed most of them but I'm still having trouble with the last triangle, one side ends up slanted. I'll have to try it again.