I hope every ones weekend went well! I had an enjoyable one that consisted of visiting a winery for a wine tasting and lunch, cute socks, and much crafting.
I collect socks and haven't owned a plain white pair for about six years now. I will soon own a pair of plain white knee highs, but I have decided they won't count. Knee highs aren't exactly plain, right? Anyway when I got home to Louisville I discovered my mom got me these cool socks: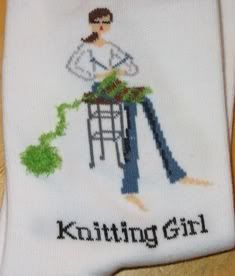 Much of my crafting didn't involve knitting, but instead a rag or fringe quilt that I'm making for my boyfriend D. Its a nice little activity I can do with my mom who is a long time sewer. Later this year she wants to try knitting again, and we are both going to make a scarf for the
Red Scarf Project
. This weekend I got all the pieces for the quilt sandwiched together with their X's sewn onto them. I can start piecing them together next time I work on it.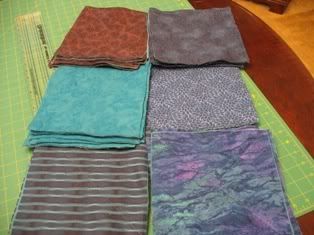 The redish fabric at the top has clusters of little drawn stars, like kids would draw them. It is a very fun fabric and makes me happy every time I see it. He is going to be an elementary school teacher so I think it fits in well. ;)
I worked a little on my basket weave scarf and did some thinking about it. I'm not happy with it as it is. It has a lot of air space between the stitches, and its just not a nicely knit as the things I'm doing now. I also think it might be a bit too wide. Here is what it looked like: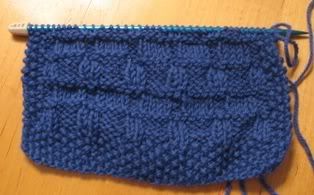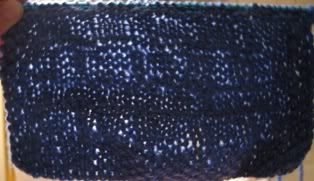 I ripped it all out this weekend and I'm going to restart it and use size 7 needles rather than the size 8.
My Dad's IHS is moving along nicely. I am on schedule so far! I had to start a new skein this weekend - my first time ever having to do this. The idea of having to was a bit intimidating but it went well. My Sister in law saw it and loved it, and wants one too. She said she'd like hers to be in grey or black, to match her new winter coat.