Look who I found outside playing by our pond!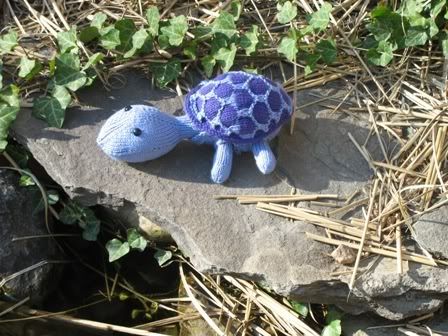 It's Sheldon, finished at last! I had no clue it took baby turtles so long to hatch.
Pattern:
Sheldon
by Ruth Homrighaus, published in Knitty.
Yarn:
Knit Picks Shine Sport in Violet (darker purple) and Hydrangea (lighter purple)
Needles:
US 2 DPNS, and US 3 KP circular
Mods:
None
Sheldon is finished just in time to give to my friend Jana for her birthday. She'll love him. I can't wait to give him to her when I have dinner with her a little over a week from now! I have plans for cute packaging including making a little "birth certificate" tag to give important information about care instructions.