They are finally finished, and just in time for a cold snap!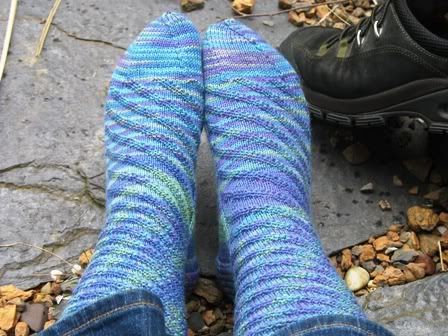 Pattern:
RPM
by Aija Goto, published in Knitty.
Yarn:
: Lorna's Laces Shepherd Sock, 2 skeins, Lake View colorway
Needles:
clover bamboo US1 dpns
Gauge:
New Techniques:
None
Mods:
I knit these on dpns instead of 2 circs. I cast on 72 stitches instead of the 54 or 63 suggested. I did extra repeats of the spiral pattern on the leg to make it longer. I modified the stitch count on the heel flap to match my cast on number. During the gusset decreases I decreased until I had 66 stitches. I followed the directions for the large pointed toe, the only directions I had to change was the first line where I decreased two stitches to reach the 64 stitch count called for.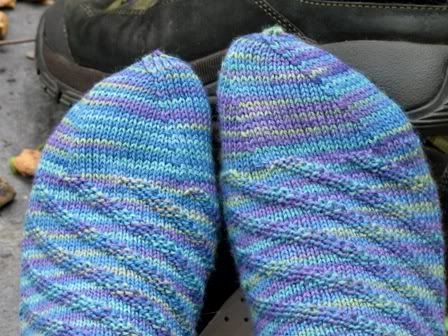 I really enjoyed knitting these socks because the pattern was interesting enough that I didn't get bored, but simple enough that I could relax with it. The pointed toe is the perfect end to this sock.
The best part yet is that these fit perfectly!