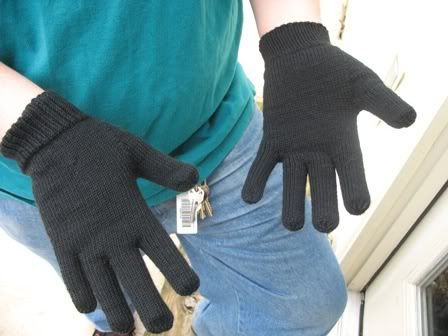 Pattern:
Gloves from the Knitters Handy Book of Patterns by Ann Budd
Yarn:
Debbie Bliss Baby Cashmerino, black, 2 skeins
Needles:
US size 3 dpns
Guage:
7 stitches per an inch
Mods:
I made the cuff way shorter than suggested, because that's what he wanted.
New Techniques:
I learned how to "make 1 right" and "make 1 left".
These are finally done! I was getting a little bored with the black yarn and weaving in all those ends was tedious. My roommates suggested I not weave the ends in at all, because they got amusement from yelling "puppet master!" whenever Danny would try on the glove with all the finger ends dangling. I'm glad my knitting amuses someone. :)
Daniel loves his gloves. He even wore the first glove in his car one chilly morning while the second one was still on the needles. He told me that he only wore it in the car because he was fairly certain he'd look silly with only one glove one. When both gloves were done and our gaming group was over he proudly showed them to everyone. All this from a guy who originally didn't want knitted stuff. Now he is saying "I'd maybe wear a hat, and some socks!"
FO count: 6, which leaves us with two contestants. :)