There are five elements, and those elements seem to change depending on the culture. For example in Chinese culture the five elements are wood, metal, fire, water, and earth. In Japanese culture they are chi (earth), sui (water), ka (fire), fū (water), and kū (void/sky/heaven).
The elements that I'm most familiar with are the western elements common in the pagan culture: Fire, Water, Earth, Air and Spirit. Project spectrum is utilizing fire, water, earth and air as its color inspiration this year. February and March have been assigned to fire.
Fire: Love, passion, destruction, rebirth, warmth, cleansing.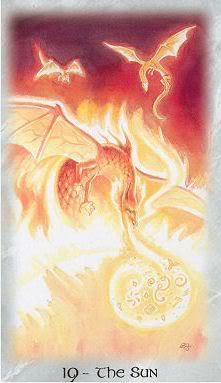 From the Celtic Dragon Tarot
For project spectrum the official colors of fire are red, orange and pink. I've never really thought of pink, but it fits. I also include yellow in the fire category.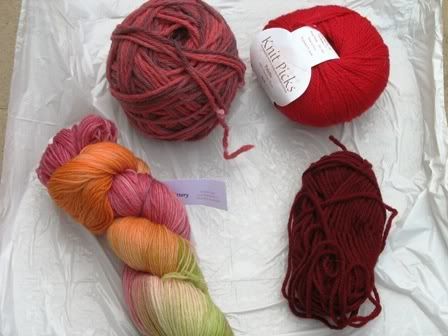 I have some yarn that fits in nicely with project spectrum. Top right is knit picks WOA Bulky in storm, over dyed with cherry Kool-Aid. Top left is knit picks palette in red. Bottom right is The Knittery in Orange Blossoms, and the last one is knit picks WOA in holly berry left over from an Irish hiking scarf.
I also have one more red yarn, but it's in use and you'll see it later this week.
Consequently, I also just completed a blogstalking! One of the recent blogstalking tasks was to photograph your favorite color. My favorite color just so happens to be red. :)