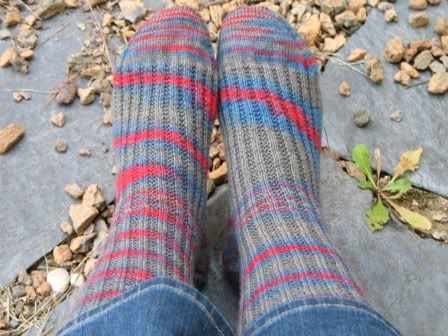 Pattern: Garter Rib from Sensational Knitted Socks
Yarn: Lorna's Laces Shepherd Sock Multi, 2 skeins. Argyle colorway
Needles: Clover size 1
Gauge: 10 stitches per an inch
Mom's foot size: 8 inch diameter, 9.5 inches long.
I knit the socks exactly to size and mom really likes them. My foot is the same width as hers and I find the socks to be a bit loose. I think I would prefer some negative ease in my socks.
I love the garter rib stitch pattern. It is easy and it looks nice. It also makes decreasing for the gusset easy. I set it up so I decreased on rib rows, and knit straight across on plain knit rows. It saved me from having to stop and inspect the stitches to see if I decreased the previous round or not.