I promised my boyfriend that I would never ever do
this
to him. He was very appreciative, I assure you.
Irish Hiking Scarf:
I finally got some work done on my Dad's Irish Hiking Scarf (IHS). The scarf is currently a little over 7 inches long and I'm a few rows past the sixth twist. I really love this scarf, every time I look at it I just can't help but feel amazed. It is such an awesome pattern.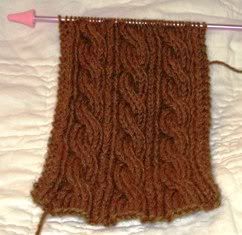 So far I have really enjoyed knitting presents for other people, rather than for myself. It just feels good to make something for someone else. As much as I love this scarf, I feel no urge to keep it for myself. It will make me happy to give it to my dad, I hope he loves it as much as I do.