Oh yes the Kittens. My babies.
On September 24th 2005 I went to a
Shamrock Foundation
adoption day with the intention of adopting an adult cat.
When I got there the cat that I had been interested in originally wasn't there, but there were plenty of cats needing a home so I looked around. There were many sweet cats, but none of them really seemed to be my perfect match. I kept skipping over two brothers who were about six months old because I only wanted one cat, and I really was planning on adopting an adult.
I finally gave in and picked up each brother one at a time. The first one was slightly larger and so snuggly he just purred and purred. The second one was very friendly but he wasn't interested in snuggling. He kept wiggling around in my arms attempting to look at everything near by, he struck me as inquisitive and playful. I loved them both. They both came home with me that day.
They were born on April 5th, 2005 and originally named Myron and Melton. I couldn't keep straight which one was suppose to be Myron and which one was suppose to be Melton, so I picked new names for them. In all my dorky glory I named the slightly larger one Mario and the other one Luigi.
To this day Mario and Luigi hold true to the personalities they showed when I picked them up. Mario is laid back and calm, and if you pick him up he'll snuggle and purr. Luigi is much more active and inquisitive; if you pick him up he squirms around so he can see his world from this new vantage point. Together they make a great team, and they spend many hours playing together.
Mario is almost all white with a bit of orange/tan markings on his face, and one very small marking just under his shoulder blades.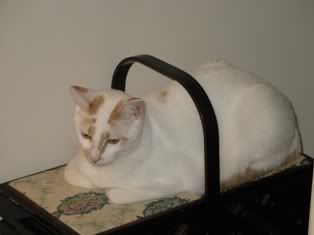 Luigi has spots!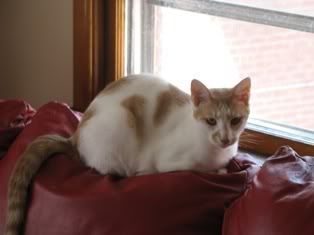 Their eyes match their markings in color, and both have tabby tails.