Today was my first day of classes and my Back to School cloths aren't done yet. Because of the lack of knitting content I thought I would introduce you to my newest obsession... Bento!
What is bento you may ask? The easy explanation is that it is a style of Japanese packed lunch that is both healthy and pleasing to the eye.
Cooking Cute
is a popular bento blog with lots of information and links to other bento blogs. It isn't currently very active but the info, links, and gallery are well worth a look. The food here seems to be more of a traditional bento style.
Lunch In A Box
is so far my favorite bento blog. Much of the food is often leftovers and things I could see myself actually making and having on hand. It also has lots of helpful tips.
Now, it is time for you to meet my bento box.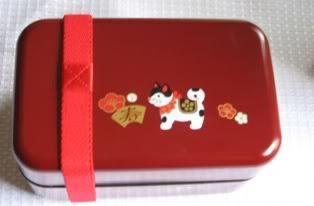 Isn't it cute?
Oh and here is what was in my lunch today: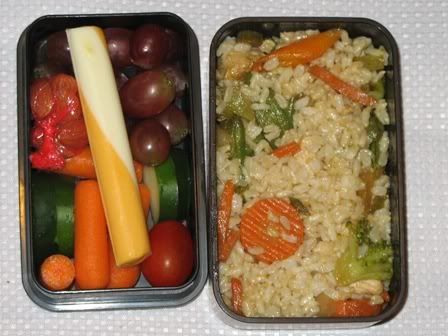 Bottom tier (on left): Honey Glazed Chicken Stir Fry made with brown rice. Recipe is from Better Home and Gardens cook book.
Top tier (on right): Carrots, cucumbers, a grape tomato, string cheese, red grapes, and almonds wrapped in pink saran wrap to keep the fruits and veggies from sweating on them.
Not shown: A little side container of dressing for dipping veggies in.
You of course don't need a fancy bento box to pack a bento style meal. One of my favorite lunches so far was packed in a rubbermaid take along container.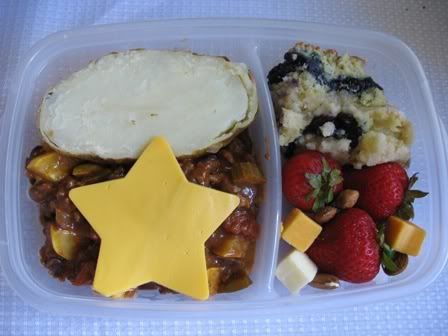 In the lunch was: homemade ground turkey chili, half a baked potato, 1 cheese slice (cut with cookie cutter), strawberries, cheese cubes, almonds, and a piece of blueberry coffee cake.