On friday the mail man brought me a present from New York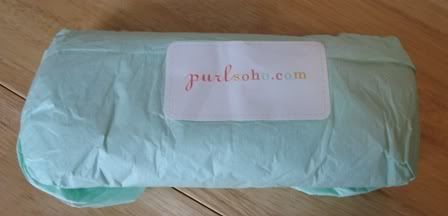 Look what I found when I unwrapped it!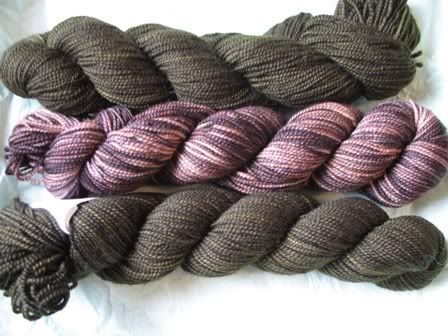 I must say, I love the look and feel of the Koigu.
One problem: I ordered the wrong color. See that green yarn, I *thought* it was a dark brown. I should send it back but I've fallen in love with the color and can't part with it. I see a cabled sock in its future. I emailed Purl and ask which yarn was a dark brown so that I won't make the same mistake again.
I can't quite explain it but originally when I ordered the yarn I didn't really like ordering from Purl. I've gotten great customer service though so I feel much better about it. First of all the packaging was cute and I was surprised to see that there was a little hand written thank you on my invoice. I also got a very prompt and helpful answer to my color confusion.
The new yarn should be on its way tomorrow, so I'll probably get it friday.
I also started the Chocolate Decadence scarf. I started it three times to be exact.
First I started with the Men's Cashmere scarf from LMKG. I got a decent amount done on it while watching a disk of 24. To my horror when I stopped to really look at it, it was curling. I pouted and then ripped it all out.
I tried the pattern again only I added a garter stitch boarder. The boarder looked like crap and the thing still curled. BOO!
I searched the internet for new options and was given a few ideas by knitty board members. I decided on the
Scrunchable Scarf
. I like the way it is turning out.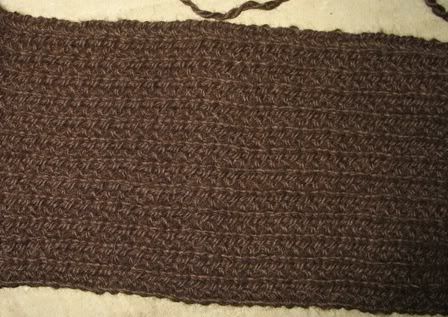 The scarf I'm making now needs more yarn than the original pattern called for so poor me had to make a knitpicks order. I ordered more than just the decadence. I didn't think I'd have to say this so soon but I'm going to join the knit from your stash thing for awhile. My only exception will be sock yarn for socktopia.